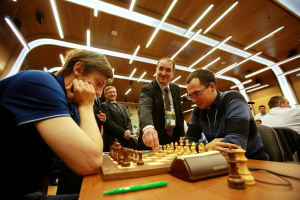 FIDE World Rapid and Blitz Championships have started In Khanty-Mansiysk. 58 players will take part in both events.
The Deputy Governor of Ugra Alexey Putin made a first symbolic move 1.e2-e4 in the game between the current world blitz champion Alexander Grischuk and Moscow champion Ivan Popov.
World Rapid Championship will be held in the Ugra Chess Academy from 6th till 8th of June. Participants will play 15 games – five games per day. According to the Regulations the time control is 15 minutes till the end of the game plus an additional 10 seconds per move. All monetary prizes are shared equally, in cases of any tied positions.