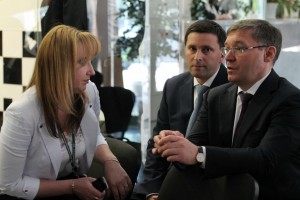 The governors of two regions of the Urals Federal District — the governor of the Tyumen region, Vladimir Yakushev and the head of the Yamal-Nenets Autonomous District, Dmitry Kobylkin attended FIDE World Rapid and Blitz Championships today.
They visited the Ugra Chess Academy, the playing hall of the championships and left their notes in the guest book. They shared their impressions, noting that they were impressed by beauty and brightness of the Academy. The Governors of Tyumen region and Yamal wished the organizers of the competition great success in all the upcoming tournaments.
The guests were also impressed by live video broadcasting, accompanied by comments of grandmasters.
During a short tour in the Academy the guests of honor were accompanied by representatives of the Ugra government — first deputy governor Alexander Kim, the first deputy of the region Gennady Bukhtin, deputy governor Alexei Putin, director of the Department of physical culture and sports Eugene Redkin.