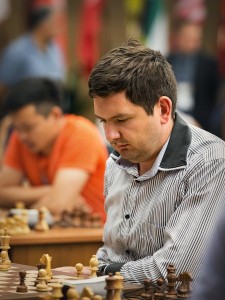 - The rapid is over, the blitz will come to its end soon. Your impressions?
- In general I have good impressions on the tournament. The championships are strong, many titled chess players participate in the tournament, the prize fund is good. But I don't have pleasant impressions on my performance, it is not successful. The only chance I have is to show good results in blitz. Though when I was coming here I thought I would have had better chances in rapid.
- You are the acting European Champion. Would you prefer to play classic chess or give a preference to play rapid or blitz?
- I always liked to play bliz. In old times when I was a student, we played blitz very often. Now I play more classic chess. Nevertheless it is very interesting to play rapid and blitz as well. Beautiful moves and ideas come to mind.
- It is not your first time in Khanty-Mansiysk. Do you like being here? 
- I like it here. I was born in the north — in Severomorsk, near Murmansk. I like northen cities in general. There is good infrustructure for rather small city. I remember when I was going here for the first time, I did not know what to expect here. But when I came I was positively surprised that the government takes care to develop the city. There are a lot of new modern buildings. Even old constructions with siding look decently. Khanty-Mansiysk is very nice city. It is obvious that the leadership work for the sake of people. There are many sport competitions organized on a good level. I am happy to come here again.
- Where will you participate after the championships?
- The Ukrainian chess championship will start in some days — 14 June. Almost all leading chess players will participate in it, except for Vasily Ivanchuk who will have some rest. It is a serious test to participate in the National championship.