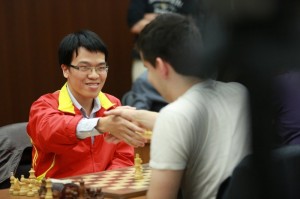 The results of the World Blitz Chess Championship were known on 10 June in the Ugra Chess Academy in Khanty-Mansiysk. 60 chess players from 18 countries were fighting for the title of t he World Blitz champion.
The Russian grandmaster Yan Nepomniachtchi and the Vietnamese Le Quang Liem were leading after the first day. Both Grandmasters had 12 points each. But the distance from the competitors was not very big: half a point behind was Ruslan Ponomariov from the Ukraine. Also, very close to the leading chess players, there was a group of chess players Alexander Grischuk, Ernesto Inarkiev from Russia.
At the beginning of the second day, Le Liem was ahead of other chess players. Till the last round he managed to keep this distance. But before the last round Ponomariov came very close to the Vietnamese grandmaster. The victory over Sergey Movsesian (Armenia) in the last round brought the gold medal to Le in the World Blitz championship. Ponomariov made a draw in the last round against Gabriel Sargissian.
Grischuk, Nepomniachtchi and Ponomatiov finished the championship only half a point behind the winner. The silver medal goes to Alexander Grischuk and the bronze — to Ruslan Ponomariov.
The World Rapid and Blitz Chess Championship was taking place from 6 to 10 June in Khanty-Mansiysk. The World Rapid Champion was known on 8 June, Shakhriyar Mamedyarov (AZE) became the World Rapid Chess Champion. Silver and Bronze medal go to Yan Nepomniachtchi and Alexander Grischuk accordingly.
The prize fund of the championships was 400 thousand US dollars and was divided between two tournaments equally.