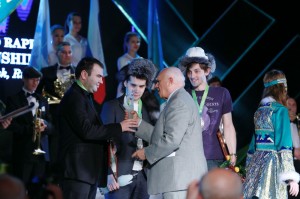 The Closing Ceremony was the final event of the FIDE World Rapid and Blitz Chess Championships. Khanty-Mansiysk became the world chess centre for six days again. The representatives of 18 countries of the world were fighting for the titles in one of the best chess complexes of the planet – Ugra Chess Academy.
At the closing ceremony the medalists and prize winners were awarded with the medals, cups and gifts from the organizers.
The representative from Azerbaijan Shakhriyar Mamedyarov celebrated the victory in the World Rapid Chess Championship. Silver and bronze went to the Russian Grandmasters Yan Nepomniachtchi and Alexander Grischuk accordingly.
Having a floor at the Closing ceremony, Shakhriyar Mamedyarov underlined that he is very glad that became the FIDE World Rapid Champion in Khanty-Mansiysk. "This is my 6 visit to Khanty-Mansiysk and I won the tournament in Ugra for the first time. I hope to continue this good tradition during my next visit as well."
The winner of the FIDE World Blitz Chess Championship Le Quang Liem supported Mamedyarov. "Every time I come to this beautiful city I see again that the organization of all the tournaments are on a high level. I hope that all championships in future will be held in Khanty-Mansiysk and I will come here again," – the winner said.
Let as add that the silver medal of the FIDE World Blitz Chess Championship went to the Russian chess player Alexander Grischuk. The Bronze medal decorated the chest of the Ukrainian Grandmaster Ruslan Ponomariov.
The FIDE Vice President Ali Nihat Yazici underlined the significance of Ugra in the chess world.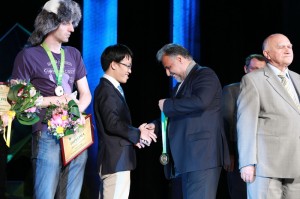 "The population of the okrug is very small. But all people here have good hearts. The level of the organization in Ugra and Khanty-Mansiysk is the model in world chess since 2005. I am happy to inform you that Ugra capiral will again host the Women's World Rapid and Blitz Chess Championship in one year. Besides, Khanty-Mansiysk will host a row of other international competitions," – Ali Nihat Yazici said.
"I would like to pay a special attention to the uniqueness of the Chess Academy. This is the best academy not only in Russia, but in the world. Khanty-Mansiysk is awarded with the title "the most significant friend of FIDE", — he added.
The FIDE Vice President once again expressed his gratitude to the Ugra Governor Natalia Komarova and the Head of Khanty-Mansiysk Vasily Filipenko for the magnificent organization.
The concert continued the Closing Ceremony. The main idea of performance was: "Ugra does not say good0bye. Ugra offers to make the next move."
During the championships about 70 thousands of chess fans from 150 countries visited the official site.