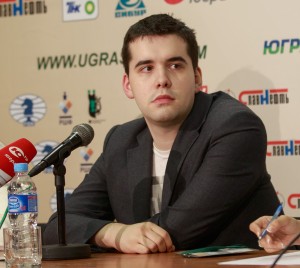 The silver medalist of the World Rapid Chess Championship Yan Nepomniachtchi came to the press centre to share his impressions.
- Yan, let us congratulate you with this success, though we understand that you were hoping to get the gold medal. Tell us what has happened at the World Rapid Chess Championship during these three days.
- First of all thank you so much for your congratulations. The tournament is really strong, despite the fact that many chess players could not make it to come here. Many of them participated in the Sberbank rapid in Kiev. I was also invited there but refused for I wanted so much to participate in this tournament.
As far as the championship is concerned… I could not say that I was very lucky in the first two days. But when I had some difficulties, I managed to solve them in my favour. In fact, if I am not mistaken, almost the same situation happened in Astana when Carlsen was leading at the beginning many points ahead of his competitors. He also lost two games in the last day and could not cope with the task. The situation is not usual. When you are too far ahead, it is not clear what to do. If it's only half a point, it would have been clear that one should play to win each game. I started with somehow awkward games against Akopian and Movsesian, then I was trying to get a big fight against Grischuk. Perhaps I should have tried to keep the drawish line till the end. To avoid a serious fight, let's say to "float" till a draw. In general, it was not my day yesterday. In all games my positions were worse, except for the last one. I may say that I was lucky to manage three draws out of four games.
- Let us please about your game against Inarkiev in details. Do you think that you were lucky in this game
- After the opening we got the equal position, but then I was confused. I did not know if I should fix the equality or play to win. As a result we exchanged queens and it was wrong step. Later on I could not see variations and I blundered a pawn on d5. After that the first wish was to give up. But I was trying to build up a kind of blockade. There was no hint of blockade of course, as the pawn on b7 was lost. At least I could create some micro-difficulties for Ernesto. And he, in his turn, instead of taking knight on g6, decided to make a repetition. I did not pay attention to this for he had enough time. But when he made a repetition for the second time I did not lose my chance and asked for my draw. It was kind of a shock for me, truly speaking. I clearly understand how this could happen: it's not possible to ask for three times repetition in blitz normally. At least it did not happen during those tournaments where I participated.
- After the game against Ernesto, you played the last round. Tell us how did it go?
- After what happened in the previous round, I was depressed. I hoped to get better position with small chances but instead of that we had a clear draw. But I did not lose courage, as it looked like Ernesto was nt going to lose to Shakhryar. But it turned out that Inarkiev presented half a point to me and later to my opponent.
- After it was known that you got the second place, what did you feel? Disappointment or joy?
- Let's put it this way: I had contradictory feelings. I realized that I cannot blame my opponents for everything was in my hands. But playing like this I could have taken the third or even tenth place.
- At the end of the first blitz day you are in the leading group. What impressions do you have? How fast could you reorganize yourself from rapid to blitz?
- In general I should say that today I had "grounding day" – I finished the second rapid day with the game against Le Quang Liem. I won that game, was ahead of my competitors and you know how it all ended. It is not that I did not want to have points against Le but nevertheless I did not repeat my mistakes (laughing). I lost in the first game and made a draw in the second. I cannot say that was very much disappointed. For the sharing of the first place with equal points is better than break in two points. At least I will not have problems with self-motivation.
- It is well known that Khanty-Mansiysk is famous for its good organization not only of the chess tournaments but also other sport international competitions. What would you mark in the organization of this tournament?
- It is not my first time here and all tournaments were organized on the same, rather high level. It would be a good compliment I think, if I would say that have nothing to mark, for I am satisfied with everything.
- How do you consider your chess career? Aren't you worried that despite your previous success you don't have the achievement as the chess players of your age like Karjakin or Carlsen have.
- Thank you so much for the question. Last year was not lucky for me. In principle I played bad in all tournaments where I took part. This year it was a bit different. Now as a matter of fact it is not easy to be qualified to some tournaments. After I lost in my rating during last year, it is catastrophically difficult to participate in any tournament except for open ones. But I look forward with optimism and I hope that I will have good results.