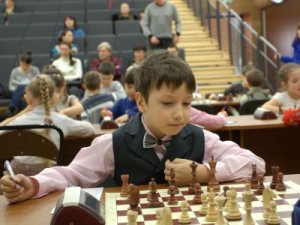 Ugra's policy if to develop chess in accordance with modern approach. The region is sure that it the most efficient way for an intellectual development and formation of the art faculties in youth.
These days Khanty-Mansiysk hosts other international competitions — FIDE World Rapid and Blitz Championships. The organizers of the tournament think that holding of the competitions of a high level not only helps to develop chess but also attracts the interest of the growing generation.
The International Grandmaster Dmitry Jakovenko from Nizhnevartovsk, the Woman's International Grandmaster Olga Girya from Langepas, the International Master Andrey Obodchuk from Khanty Mansiysk are in the list of the leading chess players of Russia and world. The pleiad of the young and strong international masters and Grandmasters have appeared in the chess world during recent years.
About 23 thousand children study chess in Ugra according to the statistics.
Ugra has long ago gained a status of the leader in introducing chess in school. In the educational institutions of the region every 10th school boy studies this intellectual sport.