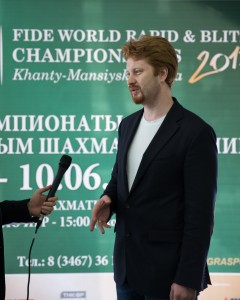 In the seventh round of the World Rapid and Blitz championships the two European champions met at the board: the 2012 European Champion Vladimir Potkin and the acting Champion of Europe Alexander Moiseenko. The luck was at the side of the Russian Grandmaster and we asked some questions right after the round.
- Vladimir, how do you estimate this game?
- To my mind Black was provocative a bit in the opening. I managed get the space and started to attack. I think I even seemed to act in my opponent's style, as he likes to attack himself right at the beginning of the game.
- What do you think, all those active moves that you made, were they correct?
- I was just going forward, I had no choice. I saw some resources for Black to offer more stubborn resistance. The game was tough indeed. But it ended successfully for me.
- Half of a distance is behind. Are you happy with your result?
- I am glad that all games turned to be interesting. Of course I could have played much stronger, sometimes my opponents made mistakes. But I am playing an interesting tournament and enjoying.
- Don't you think that we could have had much stronger composition?
- Every tournament could have had stronger composition, but those chess players who are here can be strong opponents as well.