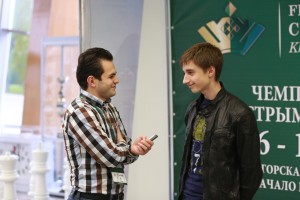 - The Rapid tournament is over and now you are participating in the blitz championship. Are you satisfied with your performance in Khanty-Mansiysk?
- It is difficult to say. As for rapid chess, I am satisfied with my play, but not with the result. But it is not a surprise, it is not much time to think over. You get few points in the winning positions normally. This brings you kind of disappointment. Luck was not on my side, what to do. I had minus 1, perhaps it is not my best rapid. I could not say that I was hoping to win the tournament. The championship is strong.
- What would you say about blitz?
- I have some doubts in my capability. But the distance is long, let's see what will happen. So far I play well, a lot of tactics, beautiful blows.
- How often do you participate in blitz tournaments?
- I play blitz almost every evening via Internet when I am at home in Moscow. In rapid, unfortunately I don't play at all. The fact is that many young chess players play blitz very often and that is why they have some advantage to their older colleagues. In fact one can practice in rapid as well and to gain the experience. But no one does it, me neither. Rapid is an absolutely unique game, but with its own rules. I decided that I will start practicing seriously after these championships.
- During different official tournaments, everything can be decided in rapid chess during tie breaks. Doesn't it speak that one should already treat rapid as a professional chess?
- Of course, one should start considering it seriously. Moreover, I was qualified to the World Cup now. I am sure I will have to play tie breaks at one point. Therefore, as soon as I come to Moscow, I will start my preparations, will practice in rapid.
- What plans do you have after these championships?
- I want to go back home and have some rest. Then I will have the High league of the Russian Championship. It never stops. I have no precise plans but I hope that will have some tournaments. I have worse situation in autumn: I have noticed that there are not that much tournaments for non elite chess players. But I hope that I will be lucky at the High league and will qualify to the Superfinals.