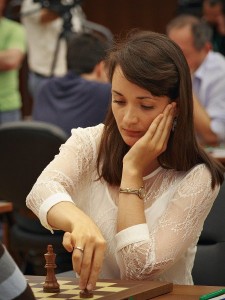 - Katerina, you are the only representative of women chess players here in the World Rapid and Blitz championships in Khanty-Mansiysk. We can say that you defend the rights of all women's chess world. Do you feel any special responsibility and how happened that you are the only woman here?
- I made my mind to participate in these championships long time ago. But I could not imagine that I would be the only one among men. During the FIDE Women's Grand Prix in Geneva I asked everyone who would go to Khanty-Mansiysk and many of the girls were interested. As a result, I turned to be the only one.
- Ten rounds have been left behind. What is your impression? Do you manage to fight with men?
- Of course it is very tough tournament. I have -1 now. Somewhere I manage to play better, somewhere worse. But I consider this tournament to be first of all like a training competition. So I don't put any super tasks for myself. I just play chess and enjoy.
- Katya, did you specially prepare for the tournament?
- No, I did not have any special preparations. After Geneva I came home and just spent time with my son. We missed each other a lot.
- Against who is it easier for you to play, against men or women?
- In the terms of chess, it is more difficult play against men, they are stronger. But it is easier to play against them from the psychological point of view. If I make a draw — it is good, if I win — it is very good. If you lose — there is nothing to do. Playing against women you should always show the result.
- It's not your first time in Khanty-Mansiysk. Do you feel comfortable here?
- It is very beautiful city. I came here for the third time already. But unfortunately I cannot say that I have a successful performance here: At the 2010 Olympiad the Ukrainian team was not qualified to the first three places, and in the Women's World Chess Championship I was knocked out after round 2. However I hope for better, coming here again and again.