After a draw in the 12th round of the World Rapid Chess Championship the youngest participant of the tournament Vladislav Artemyev could not keep his joy. It is natural: he made a draw in a game against Ex World Chess Champion Ruslan Ponomariov (the Ukraine)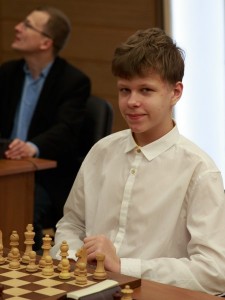 - The tournament is very strong. First time in my career I have a chance to play in a competition of this level. Truly speaking at one point it seemed to me that I would not be able to save the game. But I managed thanks to some inaccuracies of the Ukrainian grandmaster. I am dreadfully happy with the result.
 - How do you feel being in Khanty-Mansiysk?
 - I have pleasant impressions on the city — it is very beautiful and clean. Everything is on a high level. The Chess Academy is enough to be amazed.
 - Do you prepare to the rapid chess somehow in a different way than to the classical one?
 - Blitz and rapid are less important for me than classic chess. However the status of the tournament — world championship — made me come up to this competition seriously.
 - Open your secret, what does wunderkind eat?
- I eat fish before the important tournaments. It stimulates my brains better than other products.