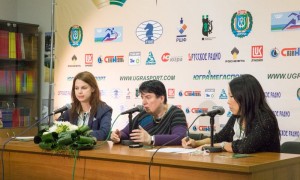 The five-time World Women Chess Champion Nona Gaprindashvili is the Chairperson of the Appeal's Committee at the World Blitz and Rapid Chess Championships in Khanty-Mansiysk. Nona Terentyevna came to the press center to answer questions to the journalists.
Anastasiya Karlovich. — Nona Terentyevna, this is your first visit in Khanty-Mansiysk Tell us about your impressions of the city, and on the organization of this tournament briefly.
Gaprindashvili: — First of all let me welcome all the followers of the World Rapid and Blitz championships. Yes, this is my first visit and I am very happy to be here. Unfortunately I could not make it to attend the World Olympiad in 2010 because of other commitments. But later on I asked many chess players how they liked the organization, and all of them answered that the Olympiad was organized on a very high level. What I would also like to add that lately we have heard a lot about Khanty-Mansiysk, which has become another big chess centre, with many chess events organized. They held here Women's World Chess Championship, four World Cups, many other international events, now FIDE World Rapid and Blitz Championships. Every chess player likes to come here again and again.
When I saw the building of the Chess Academy for the first time I was really amazed. I have never seen any other academies like this. And what a chess player needs: a good playing venue, a nice hotel, good conditions. They can get everything in Khanty-Mansiysk.
You know, I would like to recall one conversation with the FIDE President. Recently I attended the Opening Ceremony of the Women's FIDE Grand Prix in Genève. There were our girls — the participants and the FIDE President Kirsan Ilyumzhinov. And I addressed him: «Kirsan Nikolaevish, I regret that when I was an active player, in my old times, you were not the FIDE President.» I said this because comparing to that time nowadays FIDE has been doing all to have as many chess events with good conditions as possible.
N.K. — Coming back to our championships, Nona Terentyevna, tell us do you like the format of the tournaments? And what kind of format would you prefer to play?
Gaprindashvili: - As for me, I think that no matter if it is 25 or 15 or 3 minutes control, each tournament has a right to exist. Personally I would prefer playing 5 minutes. When I used to play before, it was not important for me, I liked to play 3 minutes as well as even 1 minute control. I think every format is good if you are a good chess player.
N.K. — Nona Terentyevna, maybe you can recollect any rapid or blitz match you played before with any famous grandmaster?
Gaprindashvili: - It was in Hastings. I think during first years after I became the Champion in 1962. There was a big main tournament where Mikhail Tal participated. And I was playing in the second division. In the free day, the organizers invited us to play blitz, for a face value prize, 5 pounds. Every chess player had to pay some fee as well. So, it was like a knockout, a winner of a group was qualified to finals. So, at the finals there were 5 chess players, I was the only woman among them. I played the first round with Black against Mikhail Tal. Everyone knows Mikhail. He was a great chess player, great man. At one point Mikhail sacrificed a piece. It was very interesting sacrifice. He usually sacrificed a lot. I grabbed the piece and managed to convert my advantage into a victory. I won the tournament and got my 5 pounds. Later on Mikhail came up to me and said: «I wanted to see how you would manage with this position». I thanked him for his sacrifice and said that in future would gladly accept all sacrifices. (laughing)
N.K. - Nona Terentyevna. at these championships there is also the only female chess player Katerina Lagno. What advice would you give her? And whom else do you support here?
Gaprindashvili: — It is great that she came to participate. Despite all, every professional chess player nowadays has very tight schedule, some of them could not make it. But she came here, well done. I would like to wish her good luck! As for the favourites, there are many good players at these championships. This is blitz, this is rapid. It is very difficult to say who the favourite is. You could be a very good player, but can fail at blitz. I wish all of them good luck and victories.
Eldar Mukhametov: Nona Terentyevna, a question not connected to chess. During latest years, do you see any changes in the relations between Georgian and Russian people?
Gaprindashvili: — I have been visiting many places in Russia during those years. I don't see any changes. Good people have the same good attitude to no matter what nationality you are. This is politicians who have to come to a decision finally. And we, normal people have to wait. Life goes on. Of course it is bad: we are neighbours with long history but cannot have normal relations. I am sure the majority of people in Georgia as well as in Russia is looking forward to have this situation finally resolved.
N.K. — thank you so much for your time and answers. Let us wish you all the best. We do hope to see you again in the future at some events.
Gaprindashvili: All depends on my health.