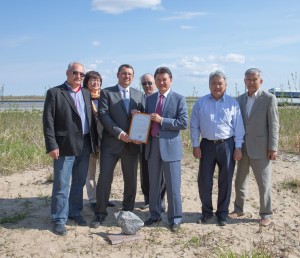 The FIDE President Kirsan Ilyumzhinov and the Head of Khanty-Mansiysk, the President of the Chess Federation of Khanty-Mansiysk Autonomous Okrug — Ugra Vasily Filipenko took part in the ceremony.
Let us remind you that in the middle of the previous century about 20 thousand kalmyks were deported to the Tyumen region. More than а half of the kalmyks were settled apart in its northern territories — the Khanty-Mansiysk and Yamalo-Nenets national okrugs.
The Buddhist memorial monument — Stupa of enlightenment will be raised here to perpetuate the memory of kalmyks who passed away during the deportation period.
«I am thankful to the leadership of Ugra and Khanty-Mansiysk, to all those who took a decision to apportioned the land to construct the memorial complex», — Kirsan Ilyumzhinov stated at the ceremony.