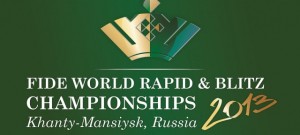 From June, 5 till June, 10 2013 Khanty-Mansiysk will be the capital of world chess.
58 chess players from 18 countries arrived to Khanty-Mansiysk for FIDE World Rapid & Blitz Championships.
The representatives of chess powers such as Russia, Ukraine, Georgia, Israel, India, the United States and Armenia will compete in Ugra. Representatives of Iran, Kazakhstan, Vietnam, Spain and other countries will also take part in the tournament. More than thirty players will defend the honor of Russia. Among the Russians there are clear favorites of the tournament –current world champion in blitz Alexander Grischuk, Jan Nepomniachi and Sergey Rublevsky. Among the participants you can also see the winner of VIII Ugra Governor Cup  Ildar Khayrullin from St. Petersburg  and 14-year-old prodigy from Omsk, international master, chess rising star Vladislav Artemyev.
Dmitry Yakovenko, Alexei Pridorozhni, Sergey Rublevsky, Denis Khismatullin, Alexey Dreev, Alexey Bezgodov and Nikolay Kabanov will defend the honor of the autonomous region of Ugra.
Blitz and rapid are the most entertaining chess disciplines. It's interesting to watch the games not only for the professionals and experts, but also to wider audience. All over the world rapid and blitz is gaining a big popularity. You can watch on-line all the chess battles in Khanty-Mansiysk on portals ugrasport.com and chesstv.com.
All participants, guests of the tournament, as well as people of Ugra will be gathered for the Opening Ceremony on 5th of June. World Rapid Championship will be held in the Ugra Chess Academy from 6th of June and will last for three days. World Blitz Championship is scheduled for 9, 10 of June.  The Closing Ceremony will take place on 10th of June.
The total prize fund of the championship is 400 000 U.S. dollars, which also shows the high status of the tournament.
Immediately after the end of the championships in rapid chess and blitz Khanty-Mansiysk will bring together about 200 participants of the international scientific-practical conference «The chess education — an important resource of the world system of education.» 30 leading experts in chess education from eight countries (Sweden, Latvia, Armenia, Brazil, Israel, Serbia, Czech Republic, Kazakhstan) will hold master classes in Ugra.