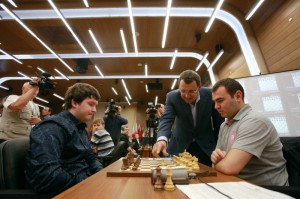 Another international chess tournament — World Blitz Chess Championship has started in Khanty Mansiysk.
The Ugra Chess Federation President, the Head of Khanty-Mansiysk Vasily Filipenko made a symbolic move on the board of the Azerbaijani Grandmaster Shakhriyar Mamedyarov vs. Ildar Khairullin of Russia. He played 1.d2-d4.
Let us remind you that Shakhriyar Mamedyarov won the title of the World Rapid Chess Champion. He brought the first golden medal of the World Champion to his country.
The World Blitz Championship will be held during 9 and 10 June. During two daye each participant will play 30 blitz games The Blitz will have fifteen rounds with two games each round, each player playing with white and black against his paired opponent, Swiss event In the Blitz Championship, each player will have 3 minutes + 2 seconds additional time per move, starting from move 1.
The prize fund of the tournament is rather impressive — 200 000 US dollars.
There are 60 chess players from 18 countries participating in the championship. The representatives from such chess countries as Russia, the Ukraine, Georgia, Israel, India, the USA and Armenia gathered in Khanty Mansiysk to fight for the World Blitz Champion title. Also, the players from Iran, Kazakhstan, Vietnam, Spain are participating in the competition. More than thirty chess players from Russia are defending the honour of the country.