The new World Rapid Chess Champion, the Azerbaijani Grandmaster Shakhriyar Mamedyarov shared his impressions on the tournament at the final press conference.
Anastasia Karlovich: Our congratulations with your victory! Did you expect that you will win the championship?
- Before the start of the tournament, I believed in luck, but today I nearly lost my belief. Ian Nepomniachtchi was far ahead and he was playing confidently. But I realized that I just had to win, and it is easier for me rather than make a draw. That is why I was fighting and taking a risk in every game.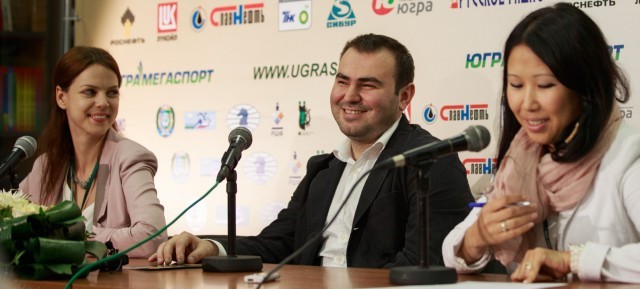 - Last year in Astana you managed to share 3-4 places in World Rapid Championship and this year you have such a success — you became a winner. Can you call yourself a specialist in rapid now?
- I always play not badly in rapid. In all important tournaments I managed to get some good place. But truly speaking, I thought that I play better blitz than rapid. And I have the opposite situation now. Perhaps everything comes with ages. Now I want to spend more time to think at the chess board. I hope that in the future I will be also successful in the classical chess.
- Sarkhan Gashimov once said that the week-end tournaments that used to take place in Baku before helped him to win one very strong blitz tournament. Did you participate in those tournaments as well?
- Yes, some five-six years ago this kind of tournaments was organized in Baku. We had rapid and blitz tournaments taking place every weekend. All our chess schools and the best chess players took part in these tournaments. Of course it helped a lot. You know, when I meet my friends, we have a chessboard in our pockets and we play blitz together with pleasure. Perhaps that is why Azerbaijani chess players show good chess in Khanty-Mansiysk now — Gadir Guseinov and Rauf Mamedov made plus three here.
- Last year in Astana Carlsen was also leading after the second day 2 points ahead of his competitors. And we all know what the final result was. When you played this time, did you have the same scenario in your mind?
- Of course it is strange that Carlsen missed his first place. But I had the same situations as well. For example, in one of the World blitz championships I had 8 out of 8 at the beginning, defeating Grischuk, Carlsen, Morozevich and other strong chess players. And in the end, I was not even in top ten, lost 16 games in a row. One does not forgive mistakes in blitz or rapid, only chess players of a high level play these formats.
Also, I remember one interesting casus. We played the Turkish Club Championship with Vugar Gashimov. He gained 13 out of 13 and got the second place. Because I had 15 out of 15 (laughing). As you see even if you win all the games it does not mean that you would win a tournament.
- Is it the first «adult» golden medal and the Champion's title in Azerbaijani chess, isn't it?
- Yes, this is our first Golden medal and title of the World Champion after Kasparov.
- How important is this victory for you? Can we say that one of your dreams came true?
- You know, when I drive fast in Azerbaijan and police stops me, I always say that I am the World Chess Champion, not going into details, that I am World Junior Chess Champion. It turns out that I was lying to them and it was not good. Now, if it happens again I would honestly say that I am really the World Rapid Chess Champion!
Sergey Karjakin did not come here to defend his title of the World Rapid Chess Champion. Do you plan to participate in Dubai next year?
- I would express my personal thanks to FIDE for the fact that those tournaments exist. For me, it is a great festival and holiday to participate in such tournaments. I think that we should not miss these tournaments. I never miss.
- Shakhriyar, in your game against Yan Nepomniachtchi, which was followed by the whole chess world, we can say this with confidence, after many pieces were exchanged, there was an impression that the position should be kept. But it turned out that Yan managed to realize his advantage, even small one. Why did it happen? Did you overestimate your position?
- During this championship I really sometimes underestimated my positions, the same happened in the game against Yan. I was following that Yan was doing well in the tournament and I had to fight against him. I really thought that the position was equal and I don't have to do a lot to make a draw. But I was mistaken. But you know, when you play in such a tournament, you have the right to play one bad game, And I had this game with Yan.
- How will you celebrate your victory today?
- Truly speaking I have an impression that I had already celebrated it yesterday. That is why I will not celebrate today. I did not sleep till the morning yesterday, Me and my friends were watching football and after that we were discussing a lot of things, forgetting about chess.
- Tomorrow you will play the Blitz tournament. How do you estimate your chances?
- Blitz that I will start tomorrow, will be continued in Tal Mamorial. I will play 40 blitz games in a row. I already can imagine what will happen. I think I will have fun (laughing). I consider blitz tournament as the new tournament. I will try to forget about rapid and my success, in order to become the World Champion again!
- Do you have any rituals that you keep before each round? Maybe you have any talisman?
- No, I don't have anything special. The only thing I always do is I sleep at night before a game. All these superstitions are not important for me. I change my shirt every day, I wear what I am comfortable in. One should just play and not pay attention to the small points.
- Almost all participants of the tournament underline the high level of the organization of these championships. What were you amazed with in Khanty-Mansiysk?
- When I came to Khanty-Mansiysk for the first time, I was amazed with a lot of things. It is a very small city, but they all like chess so much. Today everything is repeated for me in a good manner. Everything is on a high level, every chess player is respected here. I got accustomed to be in Khanty-Mansiysk. I play here for the sixth time already. You know, even in Azerbaijan there are some cities which I did not visit so many times. But Khanty-Mansiysk is my second home. I walk here a lot with pleasure. I know almost all her and it is very pleasant for me to play here. It is a chess city. And now, after my victory it is very lucky place for me.