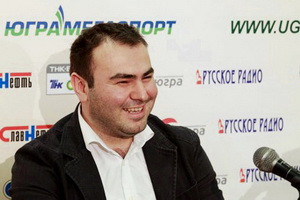 The Grandmaster from Azerbaijan Shakhriyar Mamedyarov won the title of the World Rapid Chess Champion. In the last day he won 5 games in the row and defeated Ernesto Inarkiev in 15th round. He finished the tournament with 11.5 points out of 15.
The silver medalist is Yan Nepomniachtchi. The Russian Grandmaster was leading after two days 2 points ahead of his competitors. But he lost to Alexander Grischuk in Round 13 and could not bear down the resistance of Alexander Riazantsev in the last round. As a result he is placed second half a point behind the winner.
Alexander Grischuk became the bronze winner with 10.5 out of 15. He made a draw with Nikita Vityugov in Round 15.
The final standings:
1. Shakhriyar Mamedyarov — 11.5/15
2. Yan Nepomniachtchi — 11/15
3. Alexander Grischuk — 10.5/15
4. Le Liem — 10/15
5-14 — Gadir Guseinov (AZE), Ildar Khairullin (Russia), Dmitry Andreikin (RUS), Sergey Movsesian (ARM), Denis Khismattulin (RUS), Ernesto Inarkiev (RUS), Ivan Cheparinov (BUL), Alexander Riazantsev (RUS), Nikita Vityugov (RUS), Rauf Mamedov (AZE) — 9/15
etc.
The World Rapid Chess Championship was organized by the aegis of FIDE for the second time. The championship took place from 6 to 8 June 2013 in the Ugra Chess Academy of Khanty-Mansiysk. One year ago, in 2012 the Russian Grandmaster Sergey Karjakin became the Winner of the World Rapid Championship in Astana.
The World Blitz Chess Championship 2013 will start on the 9th of June in Khanty-Mansiysk. The Russian Alexander Grischuk will have to defend his title which he got one year ago in Astana.
The award ceremony of the medalists and prize winners in the World Rapid and Blitz Chess Championships will take place on the 10th of June in Cultural Entertainment Centre «Oktyabr» at 19.30 local time.