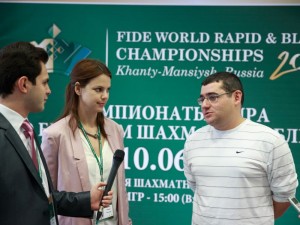 - Sergey, just few minutes ago you defeated Ivan Cheparinov. What are your first emotions after this game?
- Usually the first emotion after winning the game is a relief.  So it was not different this time.
- How is the tournament going for you so far?
- At the moment I have +4, I`m quite happy with my result but more than with my play. Yesterday I was lucky in couple of games.
- In the first day of the championship you played against Katerina Lagno, the only woman player who participates in the tournament. How do you estimate this game?
- I know that Katya is very good in rapid and blitz. The game was very tense, we had very sharp position and actually in the end I felt I was on the luckier side of the draw.  She actually overcalculated me at some stage. But I was not surprised as I know she is also very good in this direct play, so I was quite happy with a draw.  
- We didn`t have a chance to speak about your impressions during the Candidate's tournament in London where you helped Levov Aronian.  What are your impressions? What is more difficult for you to be a second or to play yourself?
- I think these are completely different things. I`m still playing more than coaching or helping Levon. I think it`s much easier if the guy you help is playing well. In such case the effect is direct and you feel that you can be useful . When something goes wrong the things go the opposite way.  I really liked being there and helping Levon but of course I would have been happier if results were better. So now we know where and how to improve and hopefully it will help next time.  
- What are your plans after these Championships?
- I plan to visit my friends and spend one week in Chelyabinsk as I`m not so often in Russia. So basically my plan is to have some rest after this tournament. Then I have quite busy schedule for the next half a year like official tournaments plus World Cup in Tromso for I managed to qualify.  So , I`m not complaining  for lack of work (smiling).