After the tenth round Grandmaster Ivan Cheparinov from Bulgaria, who tied for the second place before the last day of the World Rapid Championship, came to the press centre to share his impressions on his performance.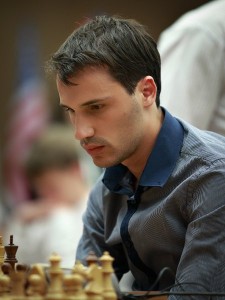 - Ivan, the second day is over. How do you feel? What are your general impressions on the tournament?
- This is my fifth time in Khanty-Mansiysk and I am happy that it is not that cold this time. I like this place very much, the organization is good as usually. As for the tournament, of course 5 rounds per day is tough schedule, so I am tired already.
- What game of today can you call a principal one? Against Dreev maybe?
- All games at these championships are principal and important. Many opponents I play against here are over 2700. So far, I played Kamsky, Mamedjarov. Of course the game against Dreev can be considered as one the most important for me as it was the last round of the day. And it is very important to win the last game.
- Some people have an opinion that one should be very lucky to win in blitz and rapid. What do you think?
- Generally every sportsman should be lucky in every sport, not only in blitz or rapid to my mind.
- Did you have any special preparations before these championships?
- I have never played in any serious rapid or blitz tournaments before. I have no experience in fact. Before coming here, I had some friendly blitz matches against Antoaneta Stefanova but as I said nothing serious.
- We thank you so much for coming here even being tired. We wish you good luck at the tournament and hope to see you again.test