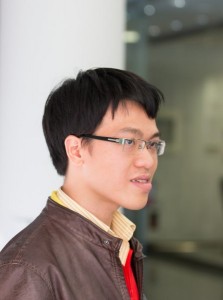 Aghasi: Dear ladies and gentlemen, we are having here the Grandmaster Le from Vietnam, who just finished his game against Alexander Grischuk from Russia.
Share with us your emotions after this game, please.
Le: — We started the game with English opening. Later on we had typical position. I was controlling the centre and keeping my space, but Alexander tried to attack my king side. I think I was slightly better somewhere. Maybe instead of Kh2 I should have played Qd2. Also, if I could have managed to prevent Alexander to play b5, I could have started my own attack and could have had a better position. But I missed some moves, which could tactically justify. At some point after b5 I realized that my position was not safe anymore. Later on after b5 we eschanged pieces quickly and made a draw, which I consider a fair result.
Aghasi: — You have played half of the tournament already. What do you think about your performance?
Le: — Till now I think I play quite stable. Yesterday I missed some chances against Mamedjarov, it was a bit pity for me. But in general I play quite play and I think everything is under control so far.
Aghasi: — What tournaments are you going to play after these championships?
Le: — After Khanty-Mansiysk I am going to participate in the Asian indoor games. Chess is included into them. Later I will play in the World Cup in Tromse.
Aghasi: — Thank you so much for your answers.