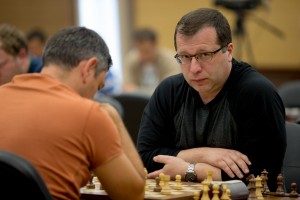 The 1st day of the FIDE World Rapid and Blitz Championships 2013 in Khanty-Mansiysk is over. 58 participants from 17 countries started their fights for the chess crown. The first symbolic move on the 1st table was made by Alexey Putin, the vice governor of Ugra in the game between Alexander Grischuk, the current world champion, and Ivan Popov, the champion of Moscow 2012.
After three rounds three grandmasters Yan Nepomnyaschiy, Alexey Dreev from Russia and Francisco Vallejo from Spain were leading on field with 3 out of 3. Nevertheless Nepomnyaschiy became the leader after the 4th round after his victory over Francisco Vallejo. At the mean time Alexey Dreev and Shakhriyar Mamedyarov from Azerbaijan were half a point behind. But in the 5th round Nepomnyaschiy and Ildar Khairullin agreed on draw on the 16th move. Dreev outplayed Victor Bologan from Moldavia and caught the leader.
The current situation at the end of the 1st day is as follows 1-2. Nepomnyaschiy, Dreev (both players are from Russia) both have 4,5 points, 3-4. Mamedyarov, Khairullin both have 4 points, 5-12. Alexander Grischuk, Dmitry Andreikin and Vladimir Potkin (all three are from Russia), Victor Bologan (Moldavia), Francisco Vallejo (Spain), Ivan Cheparinov (Bulgaria), Gata Kamsky (USA), Eltaj Safarli (Azerbaijan) all have 3,5 points.
Among the men participants there is a woman chess player, Kateryna Lagno from Ukraine, twice European champion. She made 4 draws but lost against Boris Grachev (Russia) in the 5th round.
6th-10th rounds of the Championship are scheduled on Friday June 7, the 2nd tournament day.
World Rapid Championship will be held in the Ugra Chess Academy from 6th till 8th of June. Participants will play 15 games – five games per day. According to the Regulations the time control is 15 minutes till the end of the game plus an additional 10 seconds per move. All monetary prizes are shared equally, in cases of any tied positions.